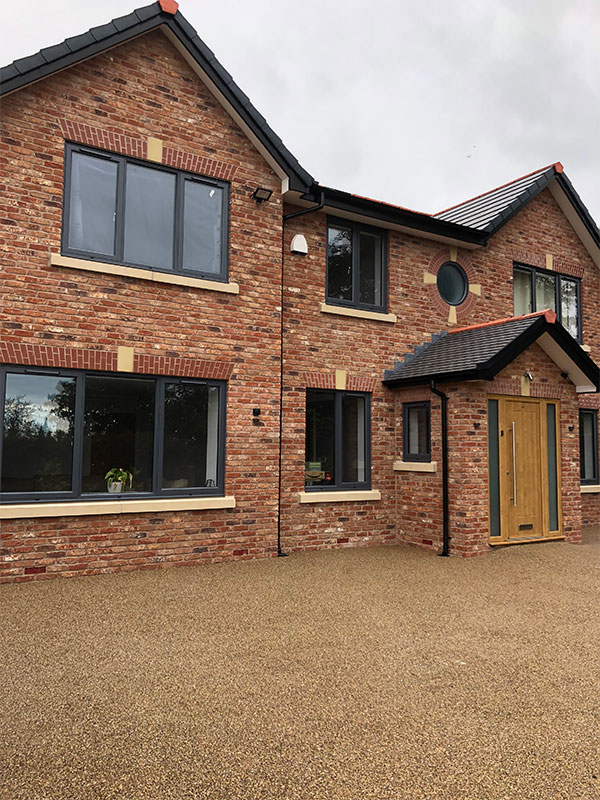 Kevin Hall of Latham Hall Construction built our new house for us.
The task involved the demolition of our existing bungalow and the subsequent building of our new 2 storey 5/6 bedroom house.
Kevin project managed the entire build.
This included the hiring of all subcontractor tradespeople, sourcing all materials and offering his own expertise as an experienced joiner himself.
His quote for the job was very competitive and he managed to stick to the budget without any increases.
Demolition of the old bungalow commenced in the September 2017 and all foundations, walls and roof of the new house were in place by the target date of Christmas that year. Once the roof was on, Kevin was able to offer a completion date prediction of 30th April 2018.
Kevin continued to be present himself on site through the Christmas holiday period, working to create the various internal stud walls and in-built cupboards himself.
In fact it was apparent from the very start that Kevin is a very hands-on project manager who likes to be on-site nearly every day of the build and likes to do a lot of the work himself if he can.
Whenever there was a choice of materials or finishes available, Kevin was always careful to check out preferences before proceeding.
On speaking to his various subcontractors, it was apparent that they all enjoyed working for him – his quiet demeanour offering a relaxed environment for them to get on with their work effectively and efficiently.
We, the clients were keen to arrange by ourselves the design, supply and fitting of our kitchen by an independent kitchen design company. We also arranged ourselves the order for our bathroom suites and tiles. Kevin was able to work with these 'external' contractors and suppliers very proactively and was able to liaise with them throughout the build project in order to get various details correct for them.
Over the course of the build there were some delivery issues from some suppliers (mainly the ones we had arranged by ourselves!) – for example the delivery of erroneous items or the non-delivery of items. Kevin, however, was able to liaise with them on our behalf on several occasions in order to rectify the problems.
As the build progressed, we as the clients were keen to make certain changes to the initial design/finish to the internal walls/rooms. Kevin was always amenable to listening to our ideas and queries, and was able to offer good experienced advice and fair quotes before we settled on new ideas. As a joiner, he was often able to create our new ideas himself; these included a bespokely designed 'floating' bathroom plinth and a window recess that was re-designed into a window box seat.
Kevin was always easily contactable to discuss any queries throughout the build. Even when he was away on holiday for a week in Thailand and subcontractor activity continued inside the house, he was able to respond in good time to text message and email queries as necessary.
Taking on a build in the U.K. over the winter inevitably means that the weather can offer certain challenges to the building schedule, however, due to his excellent, proactive management of time and subcontractor bookings, Kevin was able to successfully manoeuvre around various potential delays and ultimately was able to complete our house 3 days ahead of his prediction date.
We are very happy with the overall finish of the house, which is outstanding.
Kevin is clearly an experienced and extremely competent builder who fully understands all aspects of the job – from being able to give fair and accurate quotes – which he is able to stick to, through to all the organisational and practical aspects of building itself.
We feel very lucky that we were able to hire his services as the project manager for our build, and we would not hesitate to wholeheartedly recommend him to anybody else trying to seek out a reliable man to oversee theirs.
Simon & Lisa.